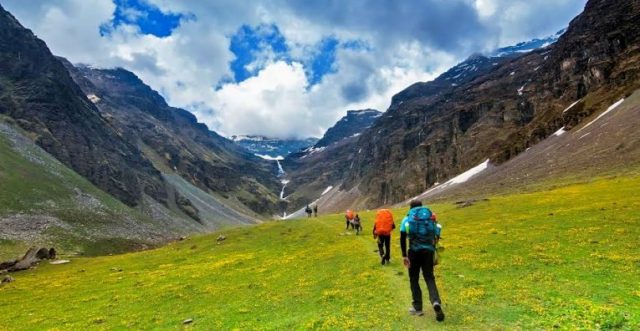 Triund is a small hill station in the Kangra District in the state of Himachal Pradesh(India). Triund has an elevation of 2,828m and is at the foot of the Dhauladhar ranges. It is a crown jewel of Dharamshala. It is a famous and popular trekking spot. Every year a lot of tourists and trekkers visit Triund from India and all over the World.
Triund trek is described as an easy trek which can easily be done by beginners and experienced trekkers. The total trek is 7-8 km and can be covered in one day. The trek route of Triund is enthralling, full of adventure and thrill.
The trek will take you through the lush green meadows, green rhododendrons, oak trees. The place shows the vibrant Tibetan culture, you will witness a lot of Buddhist monasteries, prayer flags and wheels, and the lamas. You will see the landscapes of alluring Dhauladhars namely Mun, Rifle Horn, Arthur's seat, and Slab. This wonderland is accessible in all seasons except monsoons.
Triund starts from Dharamkot or Mcleodganj, this 7 km trek starts from the Galu Devi Temple, from there you will witness some most beautiful vistas of the valley and the sight of Dharamshala Cricket Stadium. You will pass by lush meadows and forest to reach the Triund top. A perfect place to pitch your tent and enjoy the captivating views of the snow-covered mountains and peaks.
Maximum Altitude: 2,800 meters
Grade: Easy
Distance: 7-8 km
No. of Days: 1-2 days
You can start this trek from Bhagsunag waterfall and Shiva Cafe. But from there the trek is quite challenging and moderate.
How to reach?
There is a well define connectivity to road/rail/air to Dharamshala.
The nearest airport is the Gaggal Airport which is at 18km from Mcleodganj. You can easily find cabs and buses outside the airport that will drop you Mcleodganj.
The nearest railway station is at Pathankot which is 85km from Dharamshala.
You will easily get direct buses from Delhi and Chandigarh to Mcleodganj.
Best time to Visit
In the months of January and February, the place receives heavy snowfall. For snow lovers, this time is best. In the months of March till October the weather remains pleasant and calm. Clear blue skies and pleasant summers the temperature goes 25-30 degrees in the day time and 8-10 in the night.
This time is considered the best time except Monsoons. Sunrises and sunsets from the top looks ravishing and breathtaking.
Other tips for trekkers:-
If you are traveling from India, then no permits are required for the trek.
Carry a light backpack with some warm clothes
A water bottle (3-5literes) and eatables like cookies, chocolates, etc.
It is good to rent a tent and sleeping bags rather than carrying along.
There you will find a few govt. Guesthouses and forest rest houses at minimal prices.
You will come across small tea stalls and cafes which offer food, maggie, tea & coffee, and refreshment items.
You can also expend your trek by trekking further to Lahesh Cave.
You can also go back from Triund to Galu Devi Temple and from there Mcleodganj to roam around the hill station and find some good food cafes.
Keep yourself hydrated and take adequate breaks.
The trail is easy in the first 5 kilometers but gets tricky in the last 2 km.
Do not litter. Keep the environment clean.
Triund is a weekend getaway adventure. It is one of the most popular treks in India. Nearby hill stations like Mcleodganj and Dharamshala has plenty of places to visit and enjoy. Plan your trip to Triund and get close to nature.
Live. Travel. Explore!!
FAQ's
Q.1. Is Triund dangerous?
Ans. No, Triund is an easy trek and people of all groups can undertake this adventure. In monsoon season avoid trekking in Triund because the trail gets muddy and slippery.
Q.2. Can Triund can be done in two days?
Ans. Triund trek can easily be done in one day by covering the 9 km trail in 4-6 hours. For another day, do camping and watch beautiful sunrises and sunsets. It is a weekend getaway destination from Chandigarh.
Q.3. Is there snow in Triund?
Ans. In the months of January and February, the place receives snowfall. Yes, you can see snow around and enjoy the splendid vistas of the mountains.
Q.4. Can I do a solo trek to Triund?
Ans. Triund is an easy trek which can be covered in one day both sides. A lot of people do this trek every year. You can also some other near tourist attractions in Mcleodganj and Dharamshala.
Q.5. How Difficult is Triund Trek?
Ans. Triund trek is easy to slightly moderate trek. The first 5 kilometers of the trek will be easy and the next 2 kilometers will be tricky. The difficulty depends upon the fitness not on the trail.