Bhagat Singh, an Indian socialist revolutionary was given the death penalty by the British colonisers In March 23 1931 at the young age of 23 years. He is considered to be one of the country's greatest revolutionary freedom fighters. The actions of Bhagat Singh inspired many youngsters to take up the cause of the freedom movement. While the young revolutionary was hanged 88 years ago, his ideology continues to be relevant even in today social and political situation.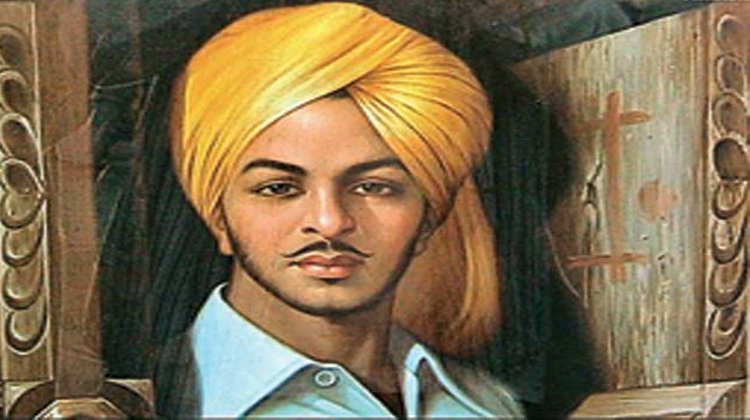 While most of Bhagat Singh's acts are known by all, there are certain stories which not many know. Given this fact, here we shed light of five stories the young Sikh who laid down his life for the motherland.
Bhagat Singh had a heart of gold:
Even though Bhagat Singh was a revolutionary, he had a heart of gold. This can be gauged from the fact that he made sure his friend Durga Das Khanna did not walk out from his own marriage as it would have hurt his friend's mother.
As per Lalit Mohan, who is the son-in-law of Durga Das Khanna, his father-in-law was persuaded by Rajguru and Sukhdev to slip away from his wedding with all the money that he had collected from the shaguns. However, Bhagat Singh was not in favour of it and asked Khanna to go back home and get married.

This instance proved that Bhagat Singh not only thought of his country but was also concerned about a mother's feelings.
He coined the phrase 'Inquilab Zindabad':

The phrase 'Inquilab Zindabad' was termed by the young Sikh. The term became the slogan of the country's armed freedom struggle. The phrase was first used on 8 April 1929 after Singh and his comrade Batukeshwar Dutt lobbed improvised bombs in the Central Assembly Hall. The bombs lobbed in the assembly hall were only meant to frighten and not harm.
He loved reading books:
The young revolutionary loved reading books. As per estimates, Bhagat Singh had read hundreds of books until his hanging at the tender age of 23, which is a record of some sorts. M.M Juneja, who had written two books on Singh has stated that Bhagat Singh loved reading literature about socialism and socialist revolution.
In one of the books, M.M Juneja narrated the incident of Singh meeting his lawyer some hours before his execution. As he tells it, Bhagat Singh was handed the book 'State and Revolution' written by Vladimir Lenin in the meeting. Knowing that, he did not much time to complete reading it, Singh started reading it and wanted to finish as much as he could.

One of the co-prisoners at Lahore Central Jail said that Bhagat Singh was a class by himself when it came to reading. He added that though Singh had a soft corner for socialism, his passion for reading novels with political and economic themes was diminished.

Escaping Lahore after killing John Saunders:

After the killing of John Saunders, a massive manhunt was underway in Lahore. To escape Lahore, Bhagat Singh shaved his beard and cut his hair to avoid being recognized and arrested. Bhagat Singh used the cover of respectable married man with Durga Devi posing as his fake wife. Sukhdev enacted the role of being their domestic help. They played their parts so well that they managed to get out of the police dragnet without being recognized even though there were more than 400 policemen at the platform.
Bhagat Singh's last moments:


Virendra, one of Bhagat Singh's comrade in his memoirs wrote that Bhagat Singh, Sukhdev and Rajguru embraced death with courage and fortitude. Virendra in his memoirs wrote how the three rebels conducted themselves as they approached death.
As per the warder, who was present during the execution when Bhagat Singh was asked to remember Wahe-guru, he laughed and said that he did not take his name all his life and seeing how the poor and oppressed were being treated he even rebuked him. Given that fact, praying at a time when death stared would make him a hypocrite and a coward. Saying this, he ascended the platform and embraced death.