Your wedding is all about your emotions, your gorgeous saree, your excitement, your happiness and your perfect wedding bridal portrait poses. Forget camera shyness and express yourself in front of camera freely. After the wedding, only your memories and photos will stay with you, so, your bridal photoshoot has to be special.

Check these 8 amazing bridal ideas that you must try for your wedding.
Mehendi hai rachne wali:
A lot of time and patience is needed for the perfect mehendi design. The glory of mehendi needs to be shown to your relatives and friends.

Once your mehendi ceremony is over, you will be eager to share your photos with your relatives and friends on social media which is why your beautiful mehendi shots really need to look amazing. Also, get your groom's name secretly engraved within the intricate designs to increase the romance quotient and ask him to find it out later. Do not waste the effort and ask your photographer to capture intricate details of your mehendi.
Haldi ka nikhar:
Haldi is one of the most fun ceremonies of the wedding, which you will definitely want relive in future. Haldi is the ritual where you can get some amazing candid pictures clicked. Wearing bright clothes and flower tiara will just increase the chances of beautiful pictures. Tell your professional photographer to bring out the fun and liveliness of that occasion through his photos.
Get close up shots:
When you will get ready with your makeup, wedding jewellery and hairstyle, you will be completely ready for a photoshoot. Your close-up shot will be your profile picture on almost your every social media account. You will definitely want your profile picture to look the most beautiful as it will be your first profile picture after your wedding and the professional photographers know how to click the best close-up photos.

The culture of sholah shingar is very popular among various Indian communities. The brides wear sixteen types of jewellery on the day of her wedding and they are bindi, earrings, nose ring, toe ring, mang tika, sindoor, ring, kajal, necklace, bajuband, kamarband, payal, bangles, mehendi, lehenga or saree and hair ornaments. All of these ornaments look incredibly beautiful in photographs, so make sure your photographer takes close up shots of the each and every jewellery.
Bride entry poses:
You can choose from several classy and fun ideas for bride entry poses. One of the amazing ideas is using fireworks to light the Bride's path. Another fantastic idea is entering the ceremony on a palki like a Princess.

Flower shower entry can also a great idea and you can select petals of your favourite flowers to make your entry even more special. If you want to add swag to your entry, enter the ceremony on a bike. No matter what your entry style will be, make sure your photographer captures your entry wonderfully.

Flaunting your saree: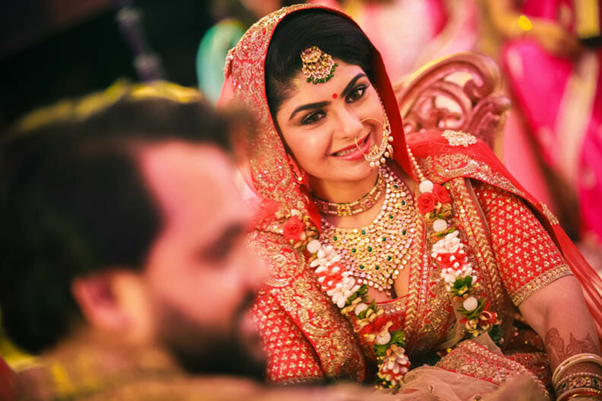 You love your beautiful, red wedding saree immensely and you are dying to wear the dress on your special day. You definitely want your photographer to capture the details of your gorgeous attire. Flaunt your bright and glamorous saree in front of the camera. Let your professional photographer capture all your moods to add variety to your bridal portraits.

Gazing into the distance:
This is one of the popular shots today. We all know you are eager for your groom to arrive on the 'ghodi' along with the baraat. How about clicking some candids while you are unable to control the adrenaline rush?
Thus, the dramatic shot will perfectly capture the mood of the occasion. Your photographer can capture these shots from behind you or your sides.
Shooting near windows and stairs:
Light plays an important factor while clicking pictures. The windows will give good views of your gorgeous, red saree. Your shots near the window will lend him fantastic light. If your photographer does a bridal photoshoot on the stairs, you will be able to show your saree in detail.
Bride in veil:
Veil or ghoonghat can be considered as one of the most magical accessories that can be used at your wedding. Tell your wedding photographer to capture you in the veil as the accessory adding an elegance and charm to your portraits. If you get the picture clicked, frame that and put it on the wall of your house. You can click photos in different ways and talk to your photographer to add creativity to your photos.

Apart from these 8 creative ideas, there are several other ideas available. Your photographer will be really glad if you share interesting ideas with him. In order to do your research, go through the internet and talk to your friends. You will get plenty of ideas, which you can incorporate in your bridal photography.